---
5 Boudoir Props That Never Go Out of Style and every photographer should have.
Boudoir is a straight up addiction. At Least for me it is. The liberation, exhilaration and the transcendental quality of the sessions get you hooked to the magical alchemy of hesitance into confidence and restriction into fluidity. Sorry that was  a mouthful but it's true!
You may step in with emotional scars, body issues and baggage.
But you walk out with a spring in your step and a glint in your eyes.
Divest those clothes and dare to look deep into the dispassionate lens of the camera and you discover a core of self-love that screams, "I did my best and I am still standing!"
Boudoir is intimate is so many ways. It strips away pretense.
It gives you the space to be who you are. And in that moment of clarity you discover what pulsates within you. What obsessions. What desires. What drama and flair.
It brings such a sense of connection and soul to the art that is photography.
There is something magical that enlivens a click when a woman decides to give precedence to her true self instead of the false standards of perfection and achievement which society loves to perpetuate.
Boudoir is often raw, often sensual but always transformative. And when something tells so compelling a story in images, it demands the best in terms of settings and props to let the saga unfold.
So here is a list of five boudoir props that will never go out of style.
If you are a woman who frequents the altar of intimate photography these items will bring panache, style, individuality and class to your sessions.
Red Soles
Mesmerizing is the word I am looking for. Stilettos are a boudoir shoot's best friend because they lend such beautiful shape to the legs and derriere.  But Christian Louboutins take the experience to a whole new level. The red soles speak volumes about being different, about standing out, about being bold. They refuse to blend in and draw attention to their majesty no matter where they are placed or how they are posed.
Invest in a pair of CLBs if you haven't taken the plunge yet. From the dangerous femme fatale to the sophisticated city girl, teamed with naughty fishnets or displayed alone – these aren't just shoes; these are the very spirit of soaring femininity.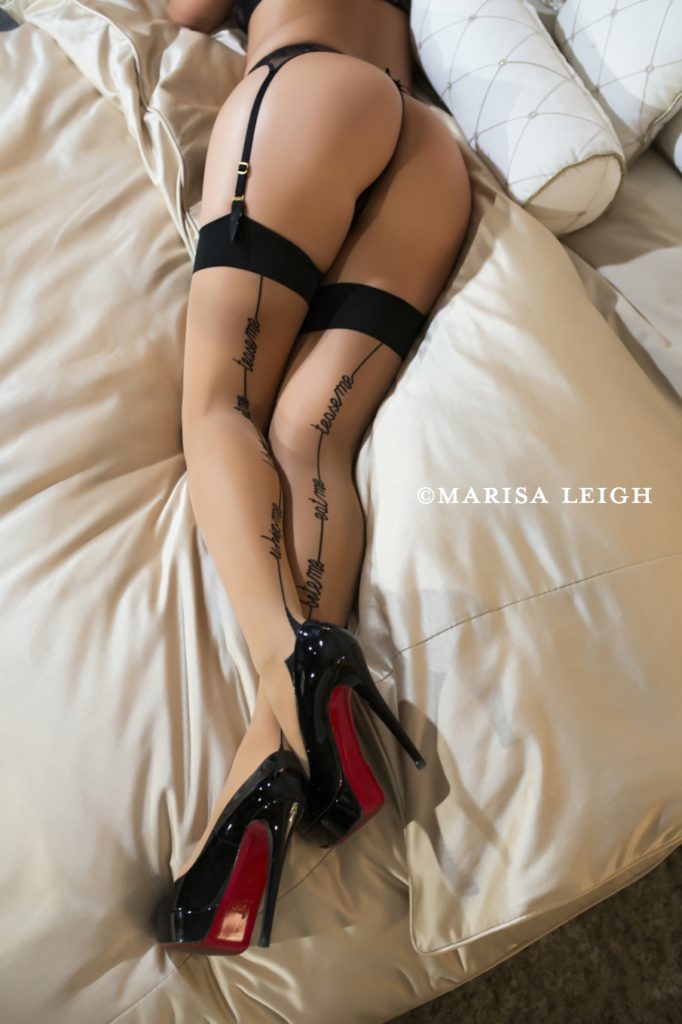 Body Art
Tattoos make a statement. They complement boudoir sessions so well because both can commemorate milestones or put the spotlight on transitions.
But when I say body art, I want to encompass a whole gamut of possibilities. Temporary creations with henna and body paint also draw a riveting picture (pun intended)! They turn limbs into a blank canvass waiting to receive the ministrations of a master. They project love, triumph, glory and freedom in a way that poses and settings can never accomplish.
Till date they remain my favorite thing to click on a woman who knows her mind.
Pearl Strands
They don't necessarily have to be the real deal. But when the perfect spheres come from an oyster's labor of love the sheen, the luminescence and the impact are far greater than with synthetic alternatives.
Invest in a single proud strand if you want to bring the aura of old glamour or high sophistication to your shots. Teamed with perfectly coiffed hair or gently clenched between your teeth in a show of passion – pearl strands will always adorn boudoir masterpieces.
The Oversized Jacket
There is something vulnerable yet erotic about the slender frame of a woman ensconced in an oversized jacket. It instantly transports me to the golden era of Hollywood blonds who ruled the silver screen. Captured in black and white with just a watch and your svelte limbs as the accessories, the prop spells chic like nothing else.
Lace Face Masks
"Fifty Shades Darker" caused quite a stir when the demure Anastasia Steele tantalized Christian Grey with the baroque lace face mask. These beauties have been around for a while but the resurgence in their popularity definitely makes the purchase of a quality piece a wise "boudoir" decision.
Your photographer should be able to use these 5 boudoir props in stunning and creative ways to add dimension to your clicks. Props help you project your feelings that much better and enhance your natural appeal. They are like jewelry accent pieces – drawing attention to themselves only to transfer the appreciation to you!