I posted a couple weeks ago announcing that I was giving away a couples boudoir shoot to one lucky couple and I am beyond thrilled to share the winner with you today!
A few months ago I photographed Jill. She came in for a gift for her fiancé and she was one of the loveliest clients I have ever had. After she left the shoot, I felt as if we had been friends for years. She is smart, sexy, confident and has a passion inside her that lit up my eyes and my heart! Sometimes I just don't want my clients to leave, I want kidnap them for drinks and make them my new friend. Jill was this client. She was so in love with her photos and sent me the sweetest thank you note after she gave them to her fiancé. 
"Dear Marisa, I wanted to let you know I gave Erik, my fiancé, the photo box last night. He LOVED them!! He is one who can really appreciate fine art photography and he kept mentioning afterwards how he can tell you know how to use lighting, pose your subject, etc. He was VERY complimentary of you.
When he took the dogs out last night, I took off all my clothes, put on a pair of heels, and laid on the bed with the red photo box between my thighs. When he walked in, I said Merry Christmas! and he was like "which one is the gift?" Needless to say, he was stunned! He thought the photos were amazing."
Love, Jill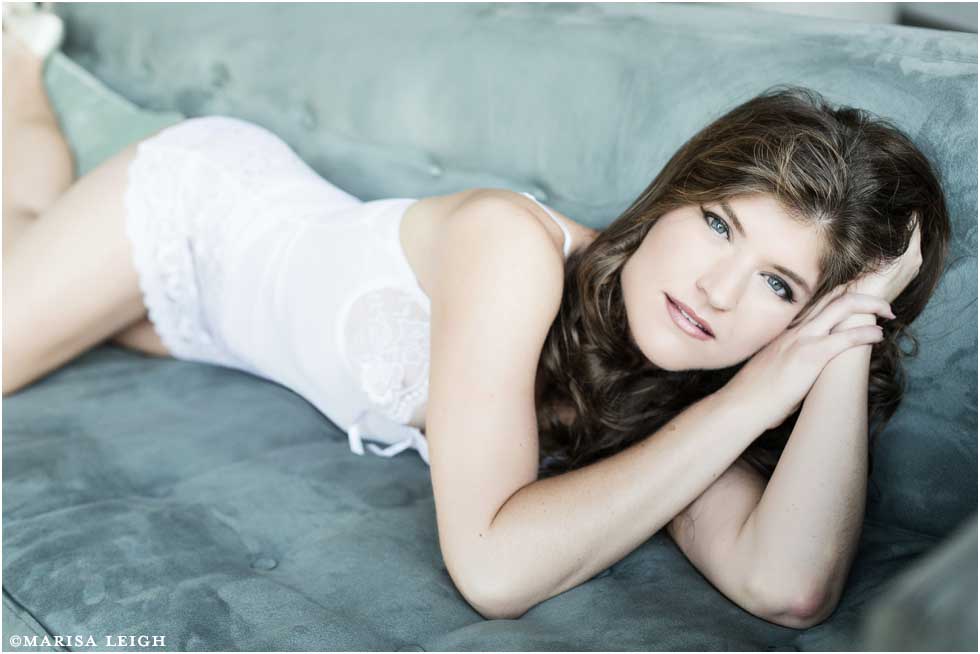 I cannot tell you how these thank you notes warm my heart! She really took it up a notch! So far, she wins for best presentation!
A couple weeks ago I received this email from her fiancé, and all I have to say is, he went above and beyond! I was totally blown away. I'm guessing writing comes easy for him. It's a little long, so be prepared, but once you get to the end, it's all worth it.  What can I say, I'm a sucker for a good love story.
Thank you Eric for taking the time! It really paid off! I can't wait to do a couples boudoir session with the two of you!
"You photographed my fiancé jill a few months ago (and have since used one of her images in your advertising); I came home from work to find her in the pair of Louboutins I gave her for our one-year anniversary with your photo album between her legs. it stopped me in my tracks (quite literally as i was taking off my shirt, so imagine me arms raised, neckline of my shirt cleaving my forehead, mouth agape), and after regarding the beauty of the box the photos came in, I pushed it aside to regard her, all batting lashes and come hither. And it was good. 
Then came the real treat. I opened the box to find the most beautiful, sensual, most gorgeously lighted and provocative photographs of Jill I have ever seen. she is the ultimate woman, because not only is she whip-smart, deeply thoughtful, honest, funny, gracious, respectful, generous, she's a goddamn knockout and barely even knows it. She's dozens of other incredible adjectives too, but I just don't have time for them all here.
You were not her first boudoir photographer, but you are far and away the most talented. These pictures are sublime, and they literally took my breath away. of course, this is really just a long and unnecessary intro to me wanting to say that i'd be honored to be chosen for your couples boudoir shoot that will yield you pics to broadcast. you have an incredible eye and i'd love to be on the opposite end of it.
the story of how we met has many what-ifs and forks in the road. on both our parts that particular evening could have gone so many other ways in the blink of an eye that it kind of scares me to think about now. i mean, if just one thing didn't happen exactly that way….
In 2010 I lived in downtown LA, at sixth and main, in a loft I built with my own hands from the remnants of a spike lee film that i PA'd on in NYC. It was (and is) and amazing space, and at the time I had a french roommate who loved clubbing in LA. at 35, I was feeling pretty much over that scene, and so always begged off when he invited me out, but one night in mid-august of 2010 I relented. I had plans nearby where he wanted to go, so it made it easy to say yes. 
We stopped at my party first, which was a work/birthday thing. After behaving ourselves for an hour we were ready to cut loose. We just needed to get my friend tommy, and then we'd hit the club in hollywood, called voyeur. I hadn't heard of it before that night, but I was told it was pretty hot even for LA. tommy bailed out at the last minute, so Vincent and I headed over and were ushered in on the waitress' guest list. 
if you never made it to voyeur in its heyday, it had a trapese-artist net on the ceiling and naked dancers in it, which pretty much blew my mind. it was crowded as hell, and being less than wealthy we did not have a table with bottle service, so we stood in the aisle by the bar. Adrien Grenier from entourage was there, rolling in the corner with his boys and a gaggle of chicks dancing all around them. The waitress whose list we were on brought us free drinks, cause she had a crush on vincent. We downed them and ordered more as we began to toggle between the smoking patio and the aisle. 
I got too drunk to really talk to anyone, so Vincent and I talked shit to one another, and before I knew it, it was 1:30am and the bouncers were telling us to go the fuck home. as they corralled us to the sidewalk i got pushed into a group of 3 girls whom vincent was already talking to, and one of them was jill. she looked stunning, in a white dress with only one strap over her shoulder. not because the second strap was broken, but because the dress had only one elegant strap. I loved that dress immediately, and to this day she wears it every august 14th, as a present for me. 
Vincent started making out with Jill's friend in about 30 seconds, so she and I spent the next few minutes talking awkwardly while our friends rubbed on one another. before long it was clear that they were gonna go for it, and they moved off into the bushes. We shrugged and kept talking, and this went on for the next three hours.
That's right. on the sidewalk on santa Monica boulevard until 430am, the sky finally becoming that best kind of cobalt blue near 5am. I'll save you the stories of the drunk guys who came stumbling out of the club to hit on Jill right in front of me (it was a parade of idiotic genius and goddamn I wish I had recorded it), but it was brilliant, and as we hailed a cab I kissed her. I had been waiting really, really, really long to do that, and usually I don't wait that long. However, something told me to wait, and that it would be worth it.
Her friend snapped back to reality long enough to realize that having sex in public on SMB might not be the best of ideas, and as they stepped into the cab i said farewell. i didn't even get her number. I was satisfied enough with kissing a random pretty girl at the club and i didn't need anything more. this says more about my stupidity in a lot of ways than i'd like it to, but hey, if I can't be honest here then what's the point of writing at all?
Fortunately, Vincent had gotten his hookup's number, and by the next morning they were texting. As I wrestled with my hangover, I tried to get Vincent to elegantly discern my hookup's name, since I had no idea what it was (and I later learned that jill had no idea what my name was either). It was Sunday now, and they invited us to meet them later that afternoon at the beach for a bonfire down in Huntington beach, where I used to live when i first moved to LA. 
Vincent wanted to do it right, and not bring cheap wine or beer. He wanted to prepare mojitos for the ladies, all the fixings included, and goddamn if he wasn't proven correct that they would be impressed. It's a hell of a thing to mix all that up on the sand, but we did it and they tasted excellent. Jill was wearing a grey tank top with jeans and her hair pulled back, and I thought she looked simply amazing. She had incredible curves, and was clearly in shape, and looked as flawless without any makeup as she did with makeup the night before. She's one of those rare women who looks better completely without makeup than with anything on at all. Every morning she wakes up prettier than when she went to sleep, and it's kind of mind-boggling. 
At the end of that evening Jill invited me out again for the next night, and I met her and her friends for dinner in Santa Monica. I gave her a ride home that night on my motorcycle, and after I dropped her off we made out properly for 30 minutes, as if we were 15 years old again. It was super-lovely, and super-PG, and I couldn't wait for more. but wait I'd have to, since she was going back to Kentucky the next day, since she was only out here on a girls weekend visiting friends. 
We talked every few days on the phone after she left, and they'd be three hour conversations. I don't need to tell you how valuable that is, to find someone whom you barely know, who you can talk with for that long each time, and have it be so pleasurable. those things are gold, and i'm glad I was 35 and old enough to recognize it. 
After a month she invited me to visit her in Kentucky. I had never been, and jumped at the chance, booking a ticket and getting there two weeks later — six weeks after meeting her. From the minute we saw each other at the airport everything was magnetized. touching was a constant.
The day after arriving she took me to Nashville. God, what a city! What a scene! We bar-hopped and had amazing food and at 4am after we got back to the hotel I put her on the floor by the closet mirrors and told her I loved her. And i fucking meant it. She held my eyes and nodded back to me and I swear I almost cried. It had been only six weeks and a new girlfriend was totally the last thing I was really looking for, but I had found The One.
And now we live in los angeles, and are getting married in Fiji in September. and she found you somehow, wanting to do something amazing for me. 
Maybe that's the kind of story you wanted to hear for this project, or maybe you gave up when you realized this was going on absolutely forever, I don't really know. But let me know how your selection turns out. we'd be honored."
Cheers, Erik
Say hello to the lucky couples boudoir contest winners!